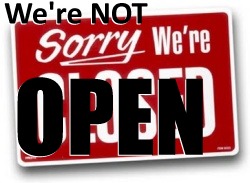 On April 2, 2013, I said I was shutting down this site because I was fed-up with the blowback I was getting. I said:
Here's the facts: People in this day and age have been trained from birth, over multiple generations, to "believe in" stuff rather than to apply critical thinking in order to achieve certainty. Religion, government, entertainment, media, propaganda, etc. tells them that some other person or entity has ultimate power over them, and without the ability to think for themselves, they 'believe' it to be true.
And at the time I meant it wholeheartedly.